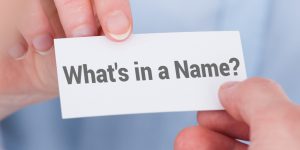 Starting-up a new recruitment business? Your chosen company name will herald your arrival and empower your business at every turn…if it's the right name.  Shane Wheeler, Marketing Communications Executive, Adapt loves brand names, especially the smart and memorable ones, and shares some tips to consider and action when naming your company…
The word 'Hoover'
Brand, company and product names have always fascinated me. I can't remember my exact age, I guess about seven or eight, but I can remember the exact moment this fascination began. As my Dad finished hoovering the living room carpet I asked, "Dad, where does the word 'hoover' come from?" and his reply blew my little mind; "Hoover is actually the name of a company who make vacuum cleaners, but everyone calls them hoovers and using one is called hoovering."
A company name latching onto the public subconscious so tightly that it became a verb impressed me then and it still impresses me now. By luck or design, Hoover discovered the 'Holy Grail' of branding. We're not 'fording' down the road or 'colgating' our teeth, but we are hoovering – even with our Dyson's.
More recently, Google has pulled-off a similar feat, 'Google it', and Apple smartly added an 'i' to 'Phone' to grab the consumer subconscious with retrofit style – but examples such as these are rare.
The Adapt team often work with new start-up recruitment businesses and we're always interested to hear their chosen names. Some names will keep cropping-up and we'll notice how memorable they are – which is a good sign!
So, will the name of your new start-up recruitment company successfully burrow itself into the grey matter of your clients and candidates? Will it always spring to their minds? With some thought and preparation, it will stand a better chance of doing so – and potentially take hold in ways which tangibly help your business to succeed and grow.
Why is the right name so important?
Naming your new business is one of the first and most important things to do. The wrong name can quickly undermine a lot of good work. Worse still, it can continue to do so throughout the life of the business. If your company name isn't clearly and memorably representing your services, imagine the extra work constantly explaining what it means or what your company does…
The name is the first thing any prospective client or candidate will notice, long before your supporting sales and marketing materials filter through to them. The name must be appealing. If your competitors' names look or sound more attractive, that equals more work for you. As a new start-up, your company name is your calling card and will be instantly judged by your marketplace – it has a LOT to do.
Would things have panned-out differently for Google had they stuck with their original name, 'BackRub'? Chances are, people would have been confused and not taken the name to heart; and 'BackRub it' would never have become a quick way of saying 'Search for it online via Google'.
[tweet_box design="default" float="none"]The right company name will deliver your message quickly and memorably, the wrong one will confuse and soon be forgotten.[/tweet_box]
Words to consider
As a recruiter, you can, of course, use the word 'Recruitment' in your company name, which is certainly helpful, but the word/words preceding it can add real advantages when it comes to the 'smart and memorable' factor. Think carefully about how strong the name is and what it really means…to you, your clients, and your candidates.
Helpfully, when you boil them down, there are only a few different types of company name. You could use your full name or surname, your location, your recruitment specialism, a 'made-up' name like Zapier, or a well-known word which evokes the feelings you're looking for, such as Apple (crisp, fresh) or Amazon (huge, colourful). The type of name you choose will give that first impression of the type of business you have.
Do people like saying the company name? Does it roll off the tongue or twist it? Not only will you and your team be saying it numerous times a day but, hopefully, your clients and candidates will be too. Make it easy for everyone to get right, because if it's difficult to say, it will be difficult to hear and it won't be recognised or remembered (at least not easily). The same goes for how it looks. Does the name look good handwritten, in various fonts and as a sign above your door?
Some words are just, well, cool and people will like them. It'll be great to have one or two of those on your side, generating interest in your business.
Words to action
Google your shortlisted names and see what comes up! Look out for competitors, 'iffy'-looking websites/companies, or legitimate companies already trading under your chosen name, or something too close to it for comfort.
Once you have a shortlist of names for your business, check the Companies House register to find out if they have already been taken. The GOV.UK website has some great advice for checking existing names, covering all the angles and avoiding pitfalls when settling upon a new name – here. Also, consider any businesses already well established in other countries (United States, ASIA Pac region etc.). While you might start off small, any plans to expand internationally could be halted or just plain confusing if you have the same name as another company.
Your clients and candidates will expect to see your company name book-ended by www. and .com/.co.uk as your website's URL, so be sure to check the right domain names are available ASAP.  It's a good idea to snag yourself several possible variants too, should your site need them in the future. Google 'domain name availability' and you'll find numerous sites to help you do this and…
Register your final chosen name.
The name which will empower your business and marketing efforts to follow in a smart, recognisable and memorable way. We look forward to noticing how cool it is.
0
0
Shane Wheeler
https://erecruit.com/wp-content/uploads/2019/11/Erecruit-300x118.png
Shane Wheeler
2017-04-06 11:50:24
2018-03-22 15:19:22
What's in a Name? – Naming Your Recruitment Company for Memorable Success