The numbers don't lie – unemployment is at a near all-time low and there seem to be new articles coming out every week about labor shortages and skill gaps across the globe – from IT to manufacturing to healthcare and beyond. And each of these institutions need to start coming up with new ways to tackle this ever-growing chasm in the demand for talent.
If You Build It, They Will Come
With more companies reporting that filling job vacancies is becoming increasingly difficult due to gaps in the necessary skills required for the job against those who are willing to work, it's crucial that we seek creative and alternative ways to close the gap.
As part of this year's World Economic Forum (aka Davos) a new report was published about the future of work, emphasizing that employers can no longer rely solely on new workers entering the labor market with the right ready-made skills, and that retraining and reskilling talent for this Fourth Industrial Revolution "are essential levers to fuel future economic growth, enhance societal resilience in the face of technological change and pave the way for future-ready education systems for the next generation of workers".[1] With the continual changes in the workforce and technology, approximately 1.4 million Americans will lose their jobs in the next eight years. Without developing new or refining existing skills, 41% (~575,000) will have very little to no work opportunities.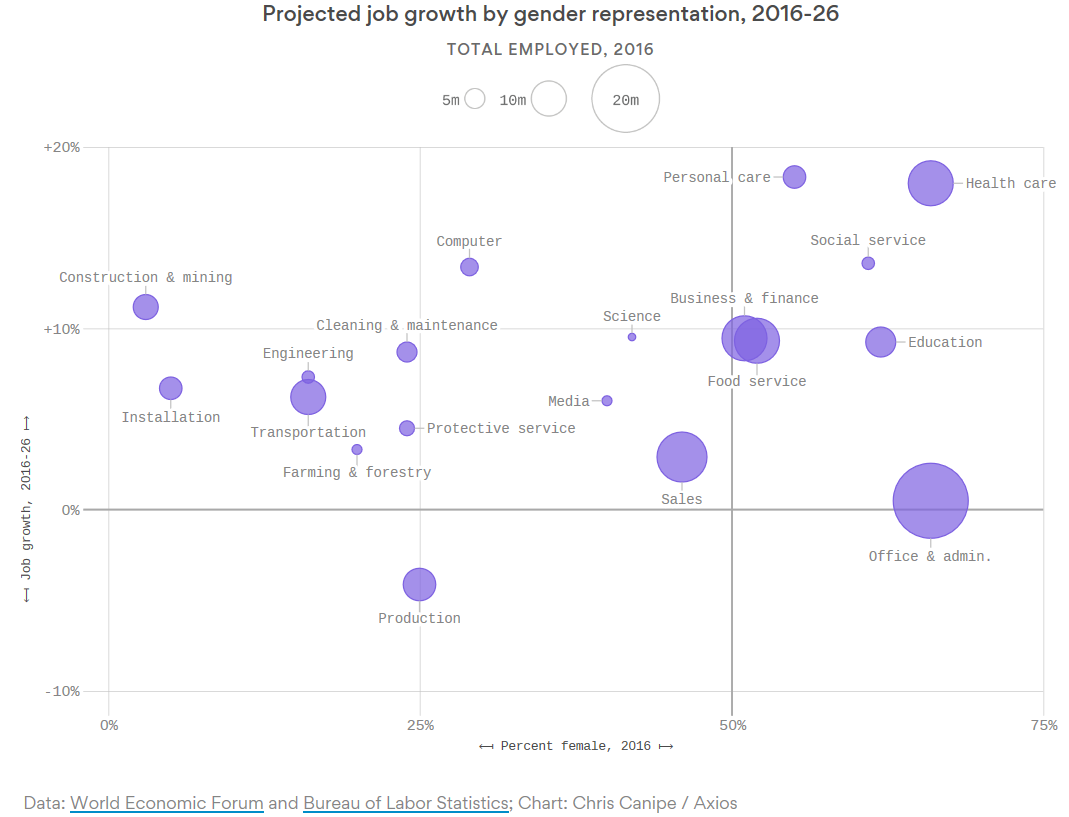 Recognizing that there is a huge shortage of IT talent to support our ever-expanding technological world, Google CEO Sundar Pichai recently announced a decision to make their internal IT Support training course available to the public through the massive open online learning platform Coursera.
"In the past, people were educated, and learned job skills, and that was enough for a lifetime. Now, with technology changing rapidly and new job areas emerging and transforming constantly, that's no longer the case… Through these trainings, people learn … to research, to plan events, analyze data and more. They don't require a formal degree or certificate. We think there's great scope to expand this model, and teach hard and soft skills that can empower a workforce that has access to constant, accredited learning opportunities as job requirements change." – Google CEO Sundar Pichai
Google has realized that offering their training to others outside of their company ensures that the critical skills gaps that are vital to future success and growth of our society and economy are tackled, whether they become a future Googler or not.
Erecruit Tip: Accurately configuring and using Folder Groups and Skills on candidate profiles and positions can significantly aide in the search and match process, when trying to identify the 'right' candidate for a position or the best job opportunities for your talent.
In ManpowerGroup's latest research regarding the skills gap, only 10% of employers surveyed indicated headcount would be reduced due to automation, mainly around administrative and office-related functions. In fact, the belief among the participants is that headcount will increase due to the expansion of these automated processes, mainly around the areas of IT and frontline/customer service and interaction.
"We are in the midst of a Skills Revolution. Technology is transforming organizations, skills needs are changing rapidly and we know companies cannot find the talent they need. People with in-demand skills who can continually learn and adapt can call the shots… Skills and access to employment will be the solution to the Skills Revolution. We must identify skills adjacencies that create clear career paths from education to employment, from this job to that job."  – Jonas Prising, Chairman & CEO, ManpowerGroup
(ManpowerGroup, 2018)
Individuals who possess 'human skills' such as effective communication, analytical problem solving, and leadership will be the ones who will thrive in this new technological age. ManpowerGroup identifies three key ways employers can get ahead of this shift through:
The New Celebrity Apprentice
As my husband will tell you, I've lamented the decline of apprenticeship programs over the last few decades. It's been my personal belief that apprenticeships used to (and still can) serve as a powerful approach to create and cultivate talent, as well as provide the individual – as well as the employer – with the opportunity to "try out" a few different jobs to determine whether a particular career or person is a good fit. While some people will tell you they always knew what they wanted to be when they grew up, the reality is that many of us had (and may still have) no idea. In school, we took a test that told us what type of career we should pursue based on a series of not-so-scientific questions (mine said lawyer or actress), or we simply fell into a job and kept on going.
"In this digital world success will not always require a college degree, but will rely heavily on the appetite for continuous skills development. We must nurture people's curiosity and learnability so they have the desire and ability to continuously develop their skills to stay employable." – Jonas Prising, Chairman & CEO, ManpowerGroup
While many will argue that this model already exists through college internships, the reality is that not all career paths may require a college degree. Individuals should still have those same or similar opportunities to explore different jobs and roles to find their purpose path and refine their skills.
It seems my wishes may be appeased, though, with some organizations reinvigorating the apprenticeship model, recognizing its short and long term benefits to both parties. In fact, IBM recently talked about their "new collar jobs" program, recognizing that a four-year degree is not as important in the digital age (in fact, 1 in 3 IBM employees do not have one). CEO Ginni Rometty (in late 2017) stated, "What matters most is that these employees…have relevant skills, often obtained through vocational training."
Just as in the 1989 movie, Field of Dreams, building a "field" where talent can perfect their [work] game, learn new skills, and collaborate and strategize with other "players" will attract talent to you and your organization.  Whether they decide to stay with your company or – through the skills they acquired from the programs and services you've offered – they leave, the experience and opportunities you helped curate for them may create a lifetime brand loyalist and referral source.
Each of us – within our organizations – claim that what we do is for a larger purpose…how about we prove it by creating a talent learning community with no strings (hours or assignment agreements, non-competes) attached? If we're willing to look beyond serving our own immediate talent shortage demands and focus on creating a powerful workforce that can be successful in this new technological age, then – in the end – we can all benefit and reap the rewards of having the right people, in the right jobs, contributing to our greater societal goals and economic prosperity.
[1] (Towards a Reskilling Revolution, 2018)
---
Amy Yackowski is the Director of Healthcare Best Practices for Erecruit. She is an avid 90s game show watcher and seeker of new ways to improve the contingent workforce management experience for staffing agencies and their clients. Amy is responsible for helping Erecruit healthcare customers develop their framework, analyze their business processes and optimize their use, effectiveness and efficiency of the Erecruit solutions to boost their profitability. Join her in conversation on Twitter, LinkedIn and ayackowski@erecruit.com.
https://erecruit.com/wp-content/uploads/2018/03/Welcome-to-the-New-Skills-Revolution-LI-photo-final-01.png
627
1200
Amy Yackowski
https://erecruit.com/wp-content/uploads/2019/11/Erecruit-300x118.png
Amy Yackowski
2018-03-22 09:00:00
2019-03-12 19:36:45
Welcome to the New Skills Revolution