The move supports Erecruit's commitment to further training for clients and staff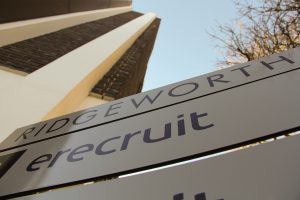 MARCH 5, 2018: Now operating as Erecruit, Bond International Software, has relocated its UK Head Office to a new, larger office space in Worthing following its recent rebrand.
The new airy office at Ridgeworth House, Liverpool Gardens has undergone an extensive refurbishment ahead of the move which took place on Monday March 5, 2018.
A key feature of the modern, open plan space, is a large training suite created to facilitate delivery of the company's training courses that empower their staffing customers to achieve exceptional results using industry-leading Adapt recruitment software – previously known as AdaptUX.The suite will also be used for training of Erecruit's own teams, at a time when the company is looking to introduce new programmes for staff development.
Erecruit's new office space reflects the company's workplace culture, with a layout that promotes collaboration between teams.The office includes a large communal space with a pool table and table-tennis, gaming and colourful eating areas designed to foster greater cross-team interaction and to both attract and retain staff.
It marks a new chapter for the business, which has been based in the Courtlands listed building on the outskirts of Worthing for over 20 years.
Speaking about the move, Paul McCarthy, chief operations officer, Erecruit said: "The move to our new office demonstrates investment in our own staff, providing them with a much more appealing work space, as well as in our customers by offering them enhanced training facilities.
"It also signals to the industry our ambitions for accelerated growth as we continue to develop our SaaS solutions: Adapt for fast-growing recruitment firms, and TempBuddy's innovative temporary staffing platform and worker app."
The move follows the consolidation of Bond International Software and TempBuddy under the Erecruit company brand earlier this year, which together with Erecruit's enterprise software form the most complete software solutions powering the world's best staffing and recruitment firms.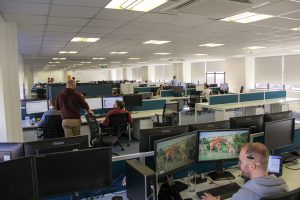 ---
About Erecruit™
Erecruit offers the most comprehensive and innovative end-to-end staffing software platform designed to empower people to achieve exceptional results. The company serves the entire recruitment lifecycle with Erecruit Front Office, Middle Office, Credentialing and VMS solutions for enterprise staffing firms; Adapt Front and Back Office software for fast-growing firms, eStaff365 Onboarding, and TempBuddy temporary workforce management platform.
Erecruit's enterprise staffing software, VMS, and credentialing solutions use modern, standards-based technologies to provide a highly scalable and configurable platform.

Adapt's front and back office staffing software delivers the ultimate user experience to maximize business performance for fast-growing staffing and recruitment companies.

TempBuddy's award-winning temporary workforce software and app helps agencies get their best people to the right place at the right time, paid promptly and accurately.

eStaff365™, the best-of-breed, cloud-based onboarding solution that expedites and automates the new hire and re-hire process for the staffing industry.
Erecruit is the leading technology provider and visionary for the staffing and recruiting industry globally, and is the chosen partner for thousands of successful firms around the world. Learn more at www.erecruit.com
About Symphony Technology Group (STG)
Symphony Technology Group (STG) is a strategic private equity firm with the mission of investing in and building great technology and services companies. In addition to capital, STG provides transformation expertise to enable its companies to deliver maximum value to their clients, to drive growth through innovation, to retain and attract the best talent and to achieve best in class business performance. Learn more at www.symphonytg.com
https://erecruit.com/wp-content/uploads/2019/11/Erecruit-300x118.png
0
0
Shane Wheeler
https://erecruit.com/wp-content/uploads/2019/11/Erecruit-300x118.png
Shane Wheeler
2018-03-05 11:43:27
2019-03-12 19:37:23
Erecruit Relocates UK HQ Following Rebrand