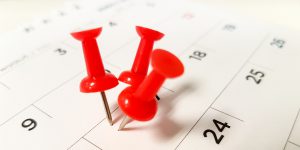 As a high volume, fast turnaround temp recruiter, simply having shift and rate software functionality isn't always enough. That's why the temp shift features in Adapt are designed to provide a dynamic approach to temp placement. Shane Wheeler, Marketing Communications Executive, Adapt shares his 'Magnificent 7' Adapt temp shift features – with tips on how to use them for the highest levels of productivity…
1. Bulk update pay rates
Renegotiated agreements and need to apply rate updates across your client base? All named rates within the Adapt 'rates matrix', such as 'Overtime 1', 'Weekend', 'Bank Holiday' and so on, are handled as multipliers of their corresponding base rate, meaning you can simply adjust the base rate and all the named rates associated with it will be adjusted too. Minimum Wage increase imminent? With the Adapt rates matrix, you can easily increase it across your full database of workers…and even do so ahead of time by setting an 'effective from' date.
2. Single shifts, multiple rates, one solution
Finding it tricky to ensure rates are calculated correctly when single shifts span different rate bands (such as evening shifts rolling into night shifts)? 'Rate Time Definition' functionality within Adapt defines exactly when named rates apply. By separating the times of day from the shifts themselves, shifts spanning different rate bands are calculated correctly every time. Trickiness eliminated!
3. Shift times – define once, apply indefinitely
Looking for an even easier way to apply the correct rates to shifts? Smart 'Shift Time Definition' functionality in Adapt enables you to pre-define shifts on a per-client basis. If your client company has set start and end times for, say, morning, afternoon or evening shifts, simply input those details once (with paid or unpaid breaks where applicable) then use that Shift Time Definition to quickly apply the correct rates going forward. One click, done.
Along with the base rates used above, holiday pay, National Insurance, pension contribution, margins (%) and mark-ups (£) are also quickly and accurately calculated.
4. Rate Book = Framework
If you're thinking the above tips sound good, but they're separate elements and the ability to apply them all at once would be even better…you're right! That's why Adapt has functionality called 'Frameworks'. A Framework is an unlimited collection of rate matrices which can be used for any pay rate agreement.
PSL, client, industry or collective rate agreements? No problem. Just create a Framework (at an agency or client level) including sets of rates (such as job types, national or industry standards) and use it where applicable – dramatically reducing manual input. You can even 'lock' Frameworks to ensure your consultants always charge the correct rates.
5. Candidate availability – don't assume, confirm
Are you using a system which assumes a candidate is available simply because they're not unavailable? When it comes to candidate availability, that assumption can cause problems and more work for your consultants. A clearer view of candidate availability is needed and Adapt provides it by enabling you to record confirmed availability and confirmed unavailability. Users can record holidays as usual of course, but they can also record that they've spoken with a temp and confirmed their actual availability; and the candidate searching functionality will effectively use that information by only finding available candidates for your assignments.
6. Work with candidate preferences
Available or unavailable is one question, but wouldn't it be helpful to know when your candidates would prefer to work, even at short notice? We think so, and that's why Adapt has 'Candidate Working Preferences' functionality enabling consultants to not only record when a candidate would usually prefer to work ("Monday to Friday, no weekends."), but also update this information should they become available at short notice ("I know I don't usually work Sundays, but I'm free this Sunday as it turns out…"). It's also possible to choose how candidate searching works when candidate availability is unknown – simply set the system to assume candidates are available, unavailable, or refer to the 'Candidate Working Preferences'. More options, more opportunity.
7. Bulk book, bulk unbook and bulk modify
Have your consultants ever dealt with a situation like this? They book twenty temps to work at an event for two days, only to receive a call at the end of day one to say that the event wasn't as busy as expected and only ten workers are required for day two – and they can all start an hour later as well… In these cases, the bulk-booking, bulk unbooking and bulk modifying functionality of Adapt certainly comes in handy!
Like to see the above features in action? Book a demo of Adapt today.
0
0
Shane Wheeler
https://erecruit.com/wp-content/uploads/2019/11/Erecruit-300x118.png
Shane Wheeler
2017-04-11 11:45:48
2018-03-22 15:11:22
7 Ways Recruiters Can Be More Productive Using Adapt Temp Shift Features